From September 11th to 22nd 2017, ICCP Director Axel Timmermann and Jung-Eun Chu, a postdoctoral researcher at ICCP, participated in the Advanced Climate Dynamics Courses (ACDC) summer school held inside the Rondane National Park in Norway.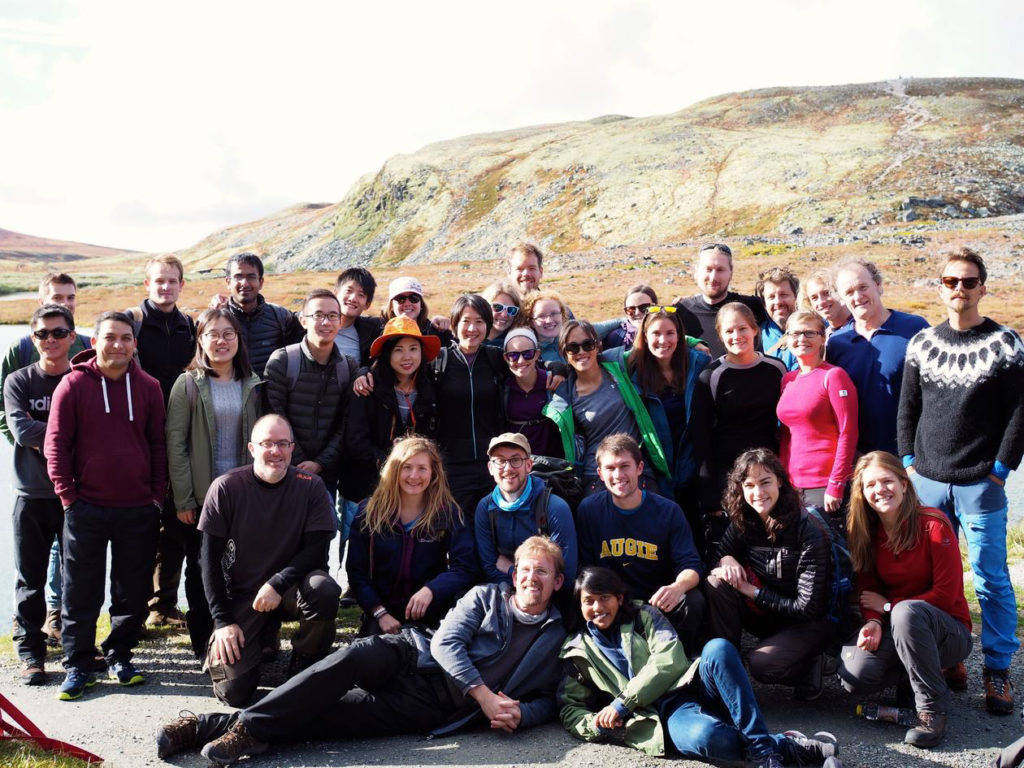 The ACDC summer schools are organized by the University of Bergen (UoB) in collaboration with North American partner universities and are sponsored by the Norwegian Centre for International Cooperation in Education Partnership Program and the Norwegian Research School on Changing Climate in the coupled Earth System (CHESS).
This year's summer school was held in the remote Rondane National Park – a stunning high altitude location surrounded by some of the tallest mountains in Norway and an ideal spot for geomorphological field excursions. 25 students from 13 countries participated, giving the summer school a truly international atmosphere. The main focus was the dynamics of the seasonal cycle and its changes through time. Axel Timmermann presented lectures on the seasonal cycle in the eastern equatorial Pacific and the fact that although the sun "crosses" the equator twice per year, surface temperatures are dominated by an annual cycle, rather than a semi-annual cycle. During the summer school students learned about the effects of orbital forcing on the seasonal cycle, the role of continentality and phase-differences between forcing and response. In small research projects, the students obtained also experience in tree-coring, advanced bi-spectral statistical methods and in analyzing climate model simulations. Detailed information regarding the program and the report of this year's summer school can be found at http://www.uib.no/en/rs/acdc/110996/acdc-2017-dynamics-seasonal-cycle.
Adding to this year's experience, the lecturers and students went out for a two-day tundra hiking and camping trip. The sub-zero temperatures and occasional snowfall added to the appreciation of real-world seasonal cycle processes.
"It was a very interactive and well-organized summer school. The program was designed to acquire broad knowledge and encouraged the interaction and discussion between students and lecturers. I was surprised to find out that there are still some unresolved questions regarding the seasonal cycle, one of the climate's most fundamental features." said Postdoctoral researcher Jung-Eun Chu after attending ACDC summer school this year.
To maintain the momentum generated by this summer school the students will organize a session during the upcoming 2018 European Geosciences Union meeting in Vienna on "The Dynamics of Seasonal Cycle and its Signature Across All Timescales". More information about the session can be found here: http://meetingorganizer.copernicus.org/EGU2018/session/27954.